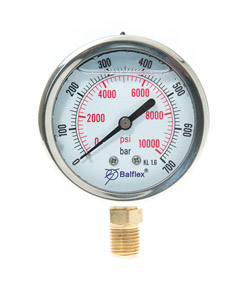 Ideal to be used in all applications where you need to measure pressure, whether they are high or low pressure. The gauges are basic and essential tools because they allow you to know the status of the system anytime. Because of this it is possible to know if the system is overloaded or if it lacks of pressure.
We highly recommend them to be used in high pressure hydraulic plants, to measure the pressure of the hydraulic cylinders at work, to calibrate a hydraulic high pressure system, to measure the pressure of a hydraulic system in mobile equipment, etc… Thanks to the stainless steel, they are ideal for outside work, preventing corrosion caused by inclement weather.
Its robustness, accuracy and precision have given the Balflex gauges a unique place internationally. Balflex is an international group of companies dedicated to the design, production and distribution of all kinds of hoses, fittings, connectors, adapters, plugs and V-belts with a high quality standard, established in 1963.
WE have gauges with different pressures and sizes:
Fill Type
Size
Conector Type
Conectors position
Available Pressures

1/4″ BSP
1/4″ NPT
1/2″ BSP
1/2″ NPT
1/8″ NPT

0 – 160 bar
0 – 250 bar
0 – 300 bar
0 – 400 bar
0 – 500 bar
0 – 600 bar
0 – 700 bar
0 – 1000 bar
Guaranteed Products
In Provectus Hydraulica we guarantee a product of the highest quality, so we offer a warranty of 1 year and a half (18 months) on any product you buy from us. We only sell new products and originals for the repair of any equipment parts, this allows us to ensure the smooth functioning, provided they have been used correctly.