We have a range of side channel blowers, also known as side channel turbines, built under the strictest quality standards. These standards allow us to manufacture  low maintenance blowers. This equipment has a long lifetime with a minimal  maintenance.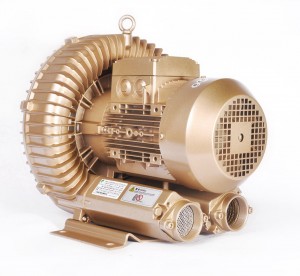 We help you calculate the right blower for the application you need to do:
Oxygenating tanks to raise trouts or other fish

Oxygenation of aquariums,

Wastewater treatment,

Movement of grain,

Biodigesters,

Suction equipment for hospitals,

Dentists vacuum equipment,

Air for use in Spa (jacuzzi, bubble pools, etc.),

Chrome tanks,

Bottle filling industrial systems,

Among many other applications.
Technical specifications of the  Blowers
Simple Stage Blowers

Power: from 0.70 Kw to 18.50 Kw
Airflow: from 80 m3/h to 1370 m3/h
Vaccum: from 70 mBar to 430 mBar
Pressure: from 80 mBar to 460 mBar

Double Stage Blowers

Power: from 0.70 Kw to 25 Kw
Airflow: from 88 m3/h to 2330 m3/h
Vaccum: from 150 mBar to 450 mBar
Pressure: from 140 mBar to 670 mBar

Triple Stage Blowers

Power: 7.5 Kw
Flujo: 170 m3/h
Vaccum: 730 mBar
Pressure:1040 mBar
The side channel blowers or side channel turbines are used constantly in water treatment of all kinds. They are perfect to generate a high air flux at an exact pressure, allowing water to oxygenate to the levels require. That way the water regeneration begins, and therefore its cleaning.
If you need to calculate anything regarding to a blower, please contact us and we will gladly help you define what is the regenerative blower that best suits your needs.

For any information on our side channel blowers, please contact us now and we will reply quickly.

If you are visiting us from Mexico, we offer all of our products at our sister company webpage Bufete Systems SA de CV, visit our website or contact directly by dialing (+52) 55 56 51 63 66.
Guaranteed Products
In Provectus Hydraulica we guarantee a product of the highest quality, so we offer a warranty of 1 year and a half (18 months) on any product you buy from us. We only sell new products and originals for the repair of any equipment parts, this allows us to ensure the smooth functioning, provided they have been used correctly.